Things To Do in Salado, TX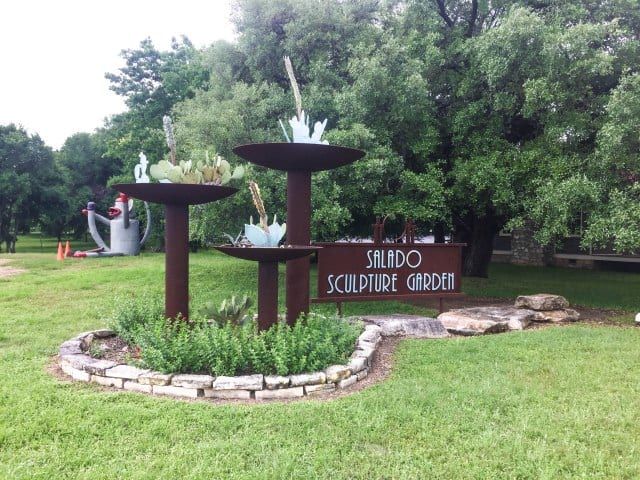 This beautiful park has gentle walkways and seating all through the area making fine art accessible to everyone. The sculpture art is on loan during the exhibition for several months and will change from time to time. Most of the art is for sale. It is open every day and free to the public. Definitely worth checking out!
113 Salado Plaza Dr
Salado, TX 76571
Besides Salado Creek access, this quaint park offers grassy areas, a pavilion & shaded playground.
Pace Park Drive
Salado, TX 76571
The Salado Museum and College Park was established to preserve and promote the pioneer history of Salado and the diverse nationalities that settled this area. Chief among these are the Scots. One of the earliest group of settlers in the Salado area was the Robertson Colony established here in 1825, a group of 600 families most of whom were Scots. (Source: saladomuseum.org)
423 S Main St
Salado, TX 76571
Whether you are looking to compete in the best team ropings in the country or for a place to hold a western event of your own, Wildfire Ranch Arena specializes in making this happen!
14343 N Interstate 35 Frontage Rd
Salado, TX 76571
Their pottery is amazing and done right in back! Definitely a must go :) If you love fudge you NEED to go and try theirs.
18 N Main St
Salado, TX 76571
"We went on to travel the world and in 2003 we chose to settle down and grow a business in Salado, Texas. Salado is the perfect place to grow a winery and a family. We planted a vineyard in 2005 and started selling Texas wines as Salado Wine Seller. In 2008, we moved into our two-story building and started making wine in 2010." (Source: saladowinery.com/about/)
841 N Main St
Salado, TX 76571
Awesome and unique book store! It has that old book smell right when you step in. Must go for all the bookworms out there ;)
945 N Main St
Salado, TX 76571
The whole staff is very welcoming and fun! We love that they allow their customers to watch while they are working - you definitely should check out their stunning work!
2 Peddler's Alley
Salado, TX 76571