Area Rugs play a very important role in the design of a space. Think of them as ART… for your floor! It can play 2nd fiddle with subtle color & texture, or take the lead with bright & bold pattern. Rug buying can be a tricky game. So, before you try to tackle the good, the bad, and the just plain ugly, check this out!
LET'S TALK TERMINOLOGY
You may not BE-WEAVE this, but Carpets and Area Rugs are not the same thing. Carpets stretch from wall to wall within a room, and are considered fixed flooring. Area Rugs, however, are moveable, and can be purchased in various sizes to go underneath your living room furniture, dining table, or to adorn your entryway.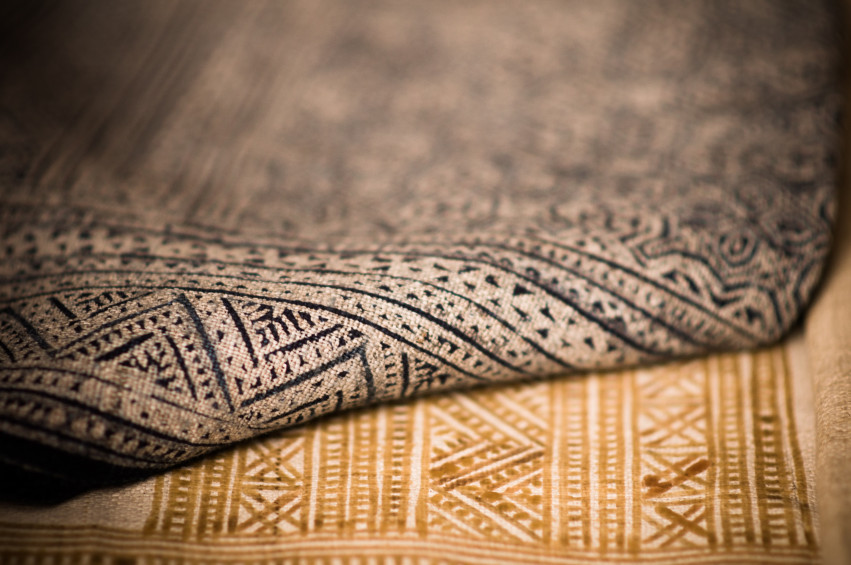 CONSTRUCTION ZONE
The Construction of an area rug refers to how it is made. Is it hand-knotted?…hand-hooked? The type of construction determines the look, as well as the quality & texture, of your rug — not to mention the longevity of your rug.
Tufted Rugs
— Loops of yarn are pulled through the rug's backing material. The loops are then sheered to create a smooth, cut-pile surface. Tufted rugs can be produced quickly and inexpensively, as they are less time consuming to construct than a hand-knotted rug.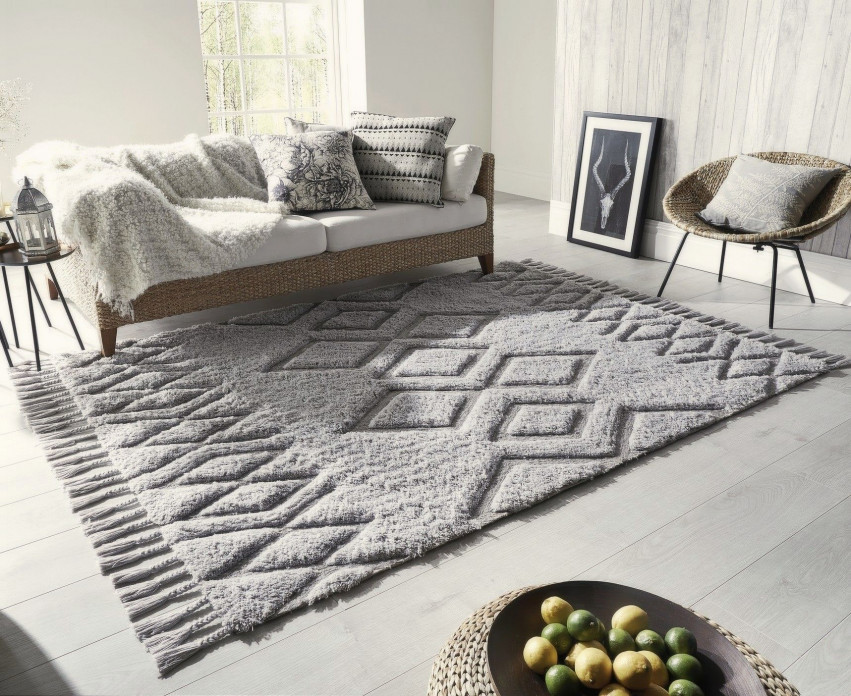 Hooked Rugs
— Hooking is similar to tufting, but the loops stay in tact. Loops of yarn are pulled thru the rug's backing material using a machine or a hand-held hooking needle. Hooked rugs are not sheared like a tufted rug. The loops are left alone, creating a knobby, embroidered look.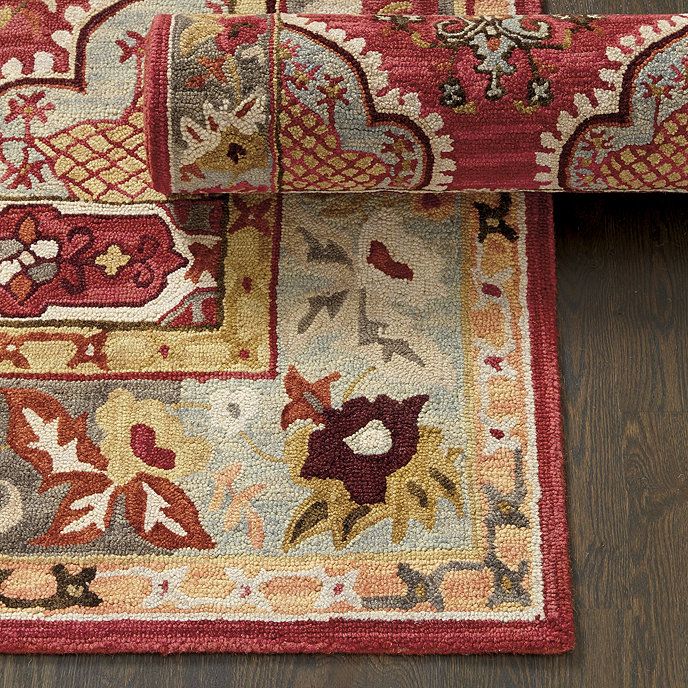 Flat Weave Rugs
— Flat weaves have no pile, since they are flat-woven on a loom. These can be made by hand or machine. Because these Flat Weave rugs are not woven onto a backing, they are reversible.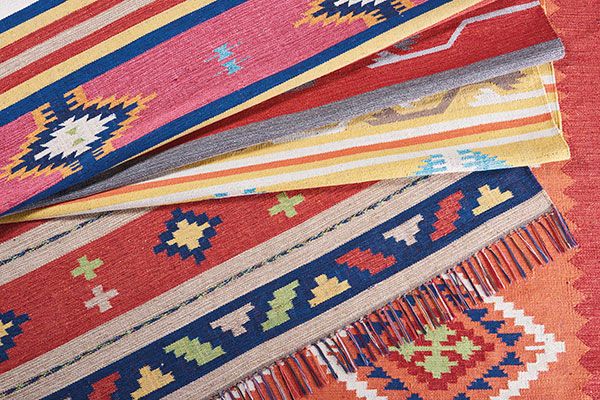 Hand-Knotted Rugs
— This is the most labor intensive rug making technique. Weavers tie individual knots to the warp yarns that make up the length of the rug. The knots form the surface of the rug (or pile). Because they are crafted by artisans, no two hand-knotted rugs are exactly alike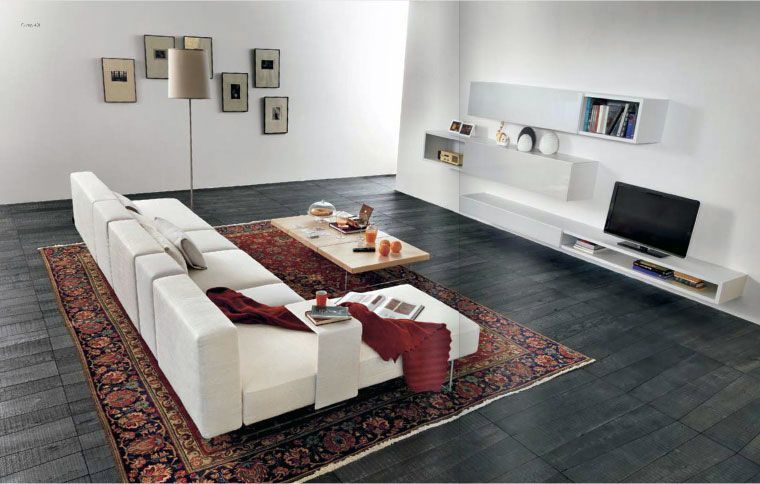 SIZE MATTERS
Oh, yes it does! You can't just run around buying rugs all willy-nilly! You've got to think about how you want your space to look & function with the rug in it. Here are a few scenarios…
-If you have a large room with lots of space, consider pulling the furniture away from the walls to create the seating arrangement in the center of the room, leaving walk-ways around the perimeter. In this case, you may want a rug large enough all the legs of the furniture to fit on top of the rug.
-If your room comfortably accommodates the furniture you have, then consider a rug that is large enough to place only the front legs of the sofa/loveseat/chairs on.
-And if the space is small, consider a 5x7 rug that fits only under the coffee table.
THE BOTTOM DOLLAR
So, what dictates price? Often times, the bigger the rug, the bigger the bucks you'll spend. Size may dictate prices most of the time. However, the quality and craftsmanship of the product may also dictate the price. For example: Machine-made rugs constructed from synthetic products are mass-produced which allows them to be sold at a low cost. Tufted rugs may cost a little more. Although hand-tufted rugs have a hand-made look, they do not require the amount of time or the skilled hand that a rug knotted by hand would. Hand-knotted rugs are considered a work of art due to the amount of thought that is put into the design and construction.
PRO TIP: Storing Rugs
Roll With It, Baby! Whether you're changing out rugs for the season, or placing them in storage for safe keeping, NEVER FOLD THE RUG. First, vacuum the rug, & spot treat it for any stains. Then, ROLL the rug tightly— the tighter the roll, the easier it will be to carry. Plastic wrapping can be purchased at a local home improvement store to wrap the the ends, & wrap around the length of the rug. This helps to keep out moisture and any pests that may be present.
MATERIAL THINGS
It is important to consider the purpose of the room that the area rug will be placed in. For Example: How the rug will be used? What kind of traffic it will receive? Therefore, we need to take into careful consideration the materials that the rug is made of.
Wool
Known for it's durability and softness, it's the most common material used for area rugs. It is known for repelling water & stains, excellent insulation properties, and coziness underfoot.
Silk
Luxurious & lustrous, silk rugs offer softness & subtle sheen.
Cotton
Used most frequently for flat weave rugs (dherries & kilims)
It is more affordable than silk or wool, and is easy to clean.
Sisal, Jute, & Sea Grass
These are durable, natural grasses & other fibers that combine neutral, earth palettes & rich textures, making them the ultimate design chameleons. These natural fibers are very strong and renewable, and are typically free from chemical processing. However, some varieties can be coarse and difficult to clean.
Leathers
Animal hides can be purchased as tanned leather, or hair-on-hide. They are available as complete hides, stitched panels, or woven strips of tanned leather. Hides are soft & durable, unique, and generally easy to clean.
Synthetics
These are man-made materials, such as viscose, nylon, and poly-propylene. In recent years, the manufacturing process has improved to mimic characteristics of natural fibers. Synthetics are easy to clean, family friendly, and can be used in damp environments. However, they don't always feel soft & luxurious.